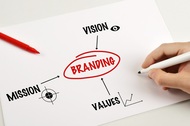 Re-Branding of KONA-AM
The KONA brand had been so severely neglected over the years, the industry and audience had passed it by. The reformatting of news programs and major lineup changes (see
Content Modernization
) were just the beginning. As we sought to reach a younger and more engaged audience, KONA needed a new look, feel and sound.
One of the first steps was coming up with a new name.
For decades, the station went by
610 Information Radio K-O-N-A
, a moniker that was adopted when the station affiliated with the ABC News Information Network. But the name was too clunky. It was seven syllables, minus the call letters and frequency; far too long-winded for the spoken word. And what was "Information Radio" anyway? In the 21st century, the word
information
evokes images of computers, networks and the Internet. It certainly doesn't bring to mind talk radio. We needed something that conveyed exactly who we are and what we do. After much debate, we settled on
NewsRadio 610 K-O-N-A
.
The new name had everything we wanted. "NewsRadio" was simple, familiar and said exactly who we are and what we do. Using the full name of
NewsRadio 610 K-O-N-A
also had the benefit of placing the frequency and call-letters adjacent to each other, making them easier to remember in a market rated by diaries rather than the PPM.
Once we had a new name, we needed a new logo. The old version had been in use since the early 1980's and had not appreciably changed in close to thirty years. I wanted something that was modern, iconic and local. We went through several rounds and iterations with a number of designers before we settled on Jane Winslow of
Winsome Design
. And the change was astounding.
---

The new logo did everything we wanted. The color scheme made it easier on the eyes, the bridge was reflective of the local
Cable Bridge
, and the logo worked well in silhouette.
We had a new name and a new logo. Now we needed a new slogan.
The station had no previous slogan or positioning statement. Nothing that made it stand out among all the other news outlets in the market. We had already positioned ourselves as having a more global perspective than anyone else in town. The paper, TV stations, and other radio stations were all in the same shouting match over who could be the most hyper-local. None of them were covering state or national news, much less international news. Politics was something everyone else avoided, and very few stations broke programming for long-form news coverage. We needed a slogan that would convey our mission, and make us stand out in the market. After much consideration, I settled on "
The World Happens Here
."
Finally, we needed a new sound. Everything else had been updated and modernized, so now we needed some new imaging. First we looked for a new station voice. We wanted one that could deliver urgency and authority and have the sound of big-market news. In
Tom Pagnotti
, we found our man. Then we partnered with ABC News to build our image and brand.
We were affiliated with most powerful and widely respected news organization in radio, and the station wasn't using that to its advantage. I wanted to make KONA synonymous with ABC; blend our voices with theirs and make us sound like one big organization. With the help of the network, I produced the following set of promos:
These two promos told the audience exactly what we did and how we were different. But as anyone in the business knows, a station must constantly update its imaging, especially a news station. To that end, I built a series of topical promos that we would update as events warranted. Each version took on one of two promotional themes: either "Unmatched... On-Air and Online," or more commonly, "Whatever Happens Next, Happens Here." Here are four examples:
But this high-energy delivery didn't work for every story. For example, when the James Holmes opened fire in a Colorado movie theater killing twelve, the tragic nature of the story called for a different style. In situations like this I wanted to convey to the audience that we were on top of the story, but not trying to sensationalize or benefit from it.
In the end, all of these changes proved fruitful. We did get some pushback, but the majority of it came from the 65+ demographic that we were no longer seeking. More importantly, the ratings improved significantly, we started attracting a much younger audience, and the station was getting noticed by both local and national media.