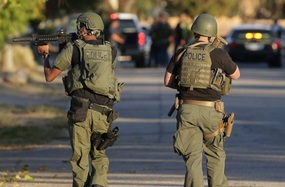 Until Wednesday, the assailants in mass shootings would usually die at the scene.

Either in a shootout with responding officers or by their own hand, the perpetrators of such heinous crimes would rarely live, let alone flee. This may say something about the mental makeup of such people.

That all changed this week in San Bernardino, California.

While many of the details are as yet unknown, we do know this: as least two people – a man and woman – walked into the Inland Regional Center where the county health department was hosting a holiday get-together and opened fire. They killed at least 14 people and wounded 17 others. Before police could respond, the shooters fled from what appeared to be a well-planed, coordinated attack.

The fact that they were able to get away – and elude capture for several hours – is exactly what former King County Sheriff and current Bremerton Police Chief Steve Strachen says will undoubtedly alter police tactics in the future.

"There wasn't a self-destructive end to this at the scene," Strachan tells KOMO Radio. "It does change, a little bit, how we think about this."

Most police tactics, he indicates, are designed to respond to a single shooter in a contained location. Many, if not most, mass shooters have some sort of death wish, often doing as much damage as they can before committing suicide or being shot by police.

In San Bernardino, it is very possible that police and first responders were flying to the scene while the alleged shooters were passing them, headed in the opposite direction. In the first few minutes, most police resources directed toward the site of the shooting, leaving fewer responders to set up a perimeter and prevent an escape.

"It isn't as if there's a discrete unit or swat team responding these locations," says Strachan. "It will be police chiefs and administrators, detectives and patrol officers […]
So the key is being able to coordinate those individuals in a way that is relatively simple because it is chaotic no matter what happens."

The biggest challenge for police and other responding agencies is how to balance resources. Every unit that is setting up a perimeter to contain an attacker is one less that can be responding to the primary location to neutralize the threat and help victims. And when multiple agencies are involved, communication and the hierarchy of command gets even more complicated in a situation where seconds could mean life or death.

Ultimately, each situation is unique. But there are established guidelines and procedures for "active shooter" situations. In the weeks and months to come, agencies and governments will be taking a close look at those procedures to find a better way to save lives.


My interview with Chief Strachan as originally aired on KOMO News: