Airchecks
On this page you will find samples of my work.
Additional airchecks are available on the
Awards
page.
---

ABC News
I am currently a freelance reporter for ABC News, based in Eastern Washington State. I have been covering northwest stories for the network since 2012. Among them: the massive wildfires of Central Washington, the Hanford Nuclear Site's leaking waste tanks and, more recently, the Pasco Police Shooting of an unarmed Hispanic man and the Arlene's Flowers/Gay Marriage legal case.
---
---

CBS News
From 2006 to 2011 I worked as a freelance reporter for CBS News in Seattle while employed full-time at KIRO. Among the stories I covered for the network were the Amanda Knox case, the Lakewood Police Officer Shootings, and a number of feature stories.
---
---

KIRO Radio/Seattle
For five years I worked as a reporter/anchor for KIRO/Seattle. I was there when the station was on 710 AM and during the transition to 97.3 FM. I covered everything from major weather events to state and local politics, and earned several
Edward R. Murrow Awards
for my work.
---
---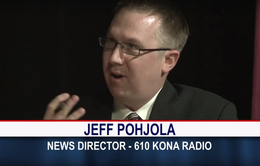 2012 Congressional Debate Panelist
in 2012, Congressman Doc Hastings (R-WA04) was seeking his tenth term as a member of the House of Representatives. He was challenged by Democrat Mary Baechler, a small businesswoman from Yakima. I served as a panelist when the two met for their only debate at Columbia Basin College.
Click Here to watch the full debate on YouTube.
---
---

DOCUMENTARY: Breathing Poison
In December of 2014, the 610 KONA news staff looked at the many toxic gas releases at Hanford's Tank Farms. We examined the history, talked with the workers, the unions, and even reached out to company management as well as the state and federal governments about the dozens of workers that have been sickened at the nation's most contaminated nuclear site.
I served as writer and executive producer for this special program.
---
---

Hockey Play-by-Play
For two years I served on the broadcast team for the Tri-City Americans of the Western Hockey League. The first year I was the color analyst, the second I was the play-by-play host.
Here is a sample of my work.
---