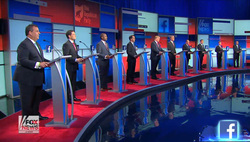 While it may seem early in the election cycle to have primary debates, with 17 candidates and counting seeking the republican nomination, it's time to start whittling the field.

Fox News hosted the first debate among the top ten candidates based on an average of the last five national polls (the other seven, which have no chance anyway, had an under-card debate earlier in the day).

The candidates, ranked in order of that average, were:

Donald Trump
Jeb Bush
Scott Walker
Mike Huckabee
Ben Carson
Ted Cruz
Marco Rubio
Rand Paul
Chris Christie
John Kasich

Instead of giving you a blow-by-blow account of the debate, here's whom I felt did the best and worst:

THE WINNERS

Jeb Bush
The former Governor of Florida, brother of former President George W. Bush had the most applause lines of any candidate with 14. He came off as stately, refined, and moderate, while still holding on to core conservative principles such as abortion and state's rights.

John Kasich
The relative nobody who barely made the cut was able to capitalize on the time he had with the relatively few questions that were directed his way. He did what he had to do to raise his profile. The Ohio Governor had the home-field advantage as the debate was held at the Quicken Loans Arena in Cleveland, but exceeded even that by coming off as measured and presidential. He was also the only candidate not to jump in the mud and attack Hillary Clinton or President Obama.

Rand Paul
Whatever you may think of Rand Paul, you have to admit he is consistent in his beliefs. Probably more so than any of the other candidates on stage. He stood up for the right against unwarranted search and seizure in a heated exchange with Chris Christie. The Kentucky Senator scored a number of points with the audience, and was able to make Christie look like Big Brother in the process.

Scott Walker
The Wisconsin governor that has earned a reputation for busting unions has likely cemented his place as the top pick for a running mate. While he likely didn't do anything to leapfrog ahead of Bush or Trump, he did appear a bit more measured, while racking up the most attacks on Hillary Clinton and the President. The role of attack dog is traditionally given to the VP nominee so the top of the ticket can appear to be above the fray. Walker certainly embraced this role in the debate, and other candidates likely took notice.

THE MEDIOCRES

Donald Trump
The businessman with an ego that eclipsed any other on stage did moderately well for his admitted debate strategy of just "winging it." He was able to stick to his points, even the Fox News moderators challenged him on his conservative credentials and consistent flip-flopping. The downside was that he seemed the least presidential of anyone on stage, and appeared to be in it for himself more anything else.

Marco Rubio
If any candidate's performance defined "mediocre" it was Florida Senator Marco Rubio's. Once considered a rising star within the Republican Party, Rubio has seen he influence diminish and clout with fellow republicans drop off ever since his ill-fated response to the State of the Union Address in 2013. While Rubio did nothing to hurt his candidacy, he did nothing to help it either.

THE LOSERS

Chris Christie
The most replayed moment of the debate will likely be confrontation between New Jersey Governor Chris Chrsitie and Rand Paul over domestic surveillance programs. During the exchange Paul was successfully able to paint Christie (who appeared to support unwarranted surveillance on American citizens) as the guy wants to listen in your phone calls, arguing that the government doesn't know who is a terrorist unless you're listening to all conversations. While his arguments may have some merit, they were not well argued; and this is a time where Christie's unrefined, "tell it like it is" style actually hurt him.

Ben Carson
The pediatric neurosurgeon-turned politician would have likely landed in the Mediocre category with Donald Trump and Marco Rubio if it weren't for his swing-and-a-miss of a closing statement. Each Candidate was given 30 seconds to give their pitch to America, and Carson responded by saying he was the only one on stage that performed a number of medical procedures. While this got one or two laughs from the audience, it did nothing to convince anyone that he is suited to sit in the Oval Office. This combined with his soft-spoken style and inability to stand out in the crowd relegates him to the bottom tier of those on stage.

Mike Huckabee
The problem with former Arkansas Governor Mike Huckabee is that he is trying desperately to be something he is not. In the last several weeks he has made some flamboyant statements in an effort to boost his polling numbers. While his credentials a social conservative are not in question, he has never been a bomb-thrower. He tried again in the debate and failed. Simply put, he is a nice guy who has trouble in a fight. He had a talk show and radio commentary that had this same problem: he was too nice and not entertaining. Both of these traits showed up in Thursday's debate.

Ted Cruz
If there was a candidate who earned the title of "Barely There" it would have to be Ted Cruz. What likely held him back was that he was stuck to a podium and not allowed wander the stage as he likes to do. Two hours after the debate ended it is hard to recall any point that he made without referring to notes. The only thing that sticks out was when he tried to jump in after questions were asked of other candidates, only to have the moderators shut him down.