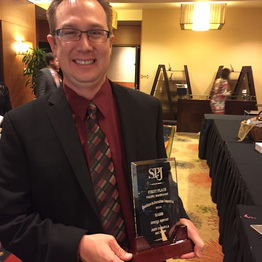 One of the most important things to any employee is acknowledgment and recognition of major accomplishments. The best companies regularly pay tribute to those within who innovate and succeed.
But in some industries the best recognition comes from outside the company, and often from your competitors.
This is certainly the case with journalism.
Professional organizations, such as the
Radio Television Digital News Association
and the
Society of Professional Journalists
annually recognize the best in news reporting with the
Edward R. Murrow Awards
and
Sigma Delta Chi Awards
, respectively. Each organization also holds regional contests held by their local chapters.
I chronicled my latest Murrow wins
in a recent post
, and now I must add my latest SPJ victory.
Disclaimer: I apologize if I sound slightly conceited in this entry, but I have a great passion for what I do and I take pride in my work.
Several weeks ago, I received an email from
Monica Guzman
, President of the
local SPJ Chapter
that I, along with Ed Dawson and Dennis Shannon, had earned one of their more coveted awards. I wasn't told which award we had won, but that all winners would be announced at the SPJ Awards Gala on June 13th.
So I waited.
And waited.
I felt like a kid who couldn't get to sleep on Christmas Eve.
Finally, the day arrived and I was headed to the party.
But before the ceremony began, I milled around with the other journalists that had arrived from all over the northwest. I was actually taken aback by how many people recognized me as soon as I walked into the ballroom. Working in radio, you tend to develop a certain sense of anonymity as people may become familiar with the name and voice, but not so much the face, so I was all the more surprised when the aforementioned Monica Guzman recognized me. Until that night, our only correspondence had been through email.
Jillian Raftery
, who was an intern at KIRO during my time there also picked me out of the crowd (thanks again, Jillian, for the drink).
Josh Trujillo
of SeattlePI.com and
Davis Wahlman
, formerly of KEPR-TV also flagged me down, and I even ran into
Colleen O'Brien
who is now co-anchor with Dave Ross at KIRO Radio.
After a lot of socializing and the requisite amount drinking (one of the raffle prizes was a "Journalists Toolkit" that included vodka, beer and wine), the awards ceremony began. When they finally got to radio my heart started beating a bit faster as the announced the finalists for the category of "Special Report." By the nature of the category, we were up against big-market stations with much larger staffs such as KIRO, KOMO, KUOW and KXL.
But then the winners were announced:
Radio Special Report

1st place
"Breathing Poison"
Jeff Pohjola, Ed Dawson and Dennis Shannon
KONA-AM Tri-Cities

2nd place
"McCleary: The Politics of Education"
Jeff Pohjola
KONA-AM Tri-Cities

3rd place
"An Autistic Teen's Guide to Impersonating Michael Jackson"
Meghan O'Kelley, Lila Kitaeff and Carol Smith
KUOW-FM Seattle


Ed Dawson and Dennis Shannon deserve a great deal of credit for "Breathing Poison." It was a complete team effort. We were under a very tight deadline to get the project done and share the compelling stories of two workers who were sickened by toxic vapors at the Hanford site, and both of them pulled through. But I cannot forget Frank Cooper, who handled the program's music, and Tom Pagnotti, who was the announcer.

I also earned 2nd place for my hour-long documentary on the McCleary case, which focused on the politics of funding education. I spent several days in Olympia interviewing everyone from the governor to the attorney general about what should be an easy thing to do: funding education.

Feel free to listen to these award-winning programs:



Breathing Poison
Throughout the course of 2014, dozens of workers at the Hanford site were exposed to toxic vapors emanating from underground waste tanks. The KONA News Staff looked at the issues, complaints, and alleged coverups surrounding those exposures.
McCleary: The Politics of Education
Ever since the Washington State Supreme Court ruled that the state is not properly funding education, teaching the state's youth has become a political football with lawmakers facing down the high court in what could lead to a constitutional crisis.