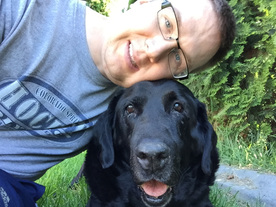 Today, my family had to put down our beloved black lab, Toby.

He lived a long life of more than 11 years, all of it with my parents. They got him before I had moved away and still had him when I moved back. But in recent years, his health had declined as he developed a number of tumors, trouble with his hips, and had difficulty getting around. In the last few weeks his pain became too much so we decided it was time.

What I will remember about Toby is his unusually calm demeanor. The only time he would ever get amped up is when someone unfamiliar came to the door. Mostly he would relax just behind my parent's couch, calmly observing everyone going about their business. He would never beg for scraps off the dinner table or even come close to biting your hand when you fed him.

But that doesn't he didn't like to play. Whenever my dad would mow the lawn Toby would grab a globe-sized ball and have him kick it across the yard. He would chase it and bring it back for another round. He also loved tennis balls, especially if you threw it into the pool. But climbing into the pool was too leisurely form him. He would leap into the water with the force of a 100-pound dog to get the ball. If you stood on the diving board, he leap in before you and tread water until you dove in, then race you to steps to get out.

He had black fur that was darker than the deepest night. Aside from a few whiskers on his snout, he never went gray. Whenever he would get wet the fur on his back would become so wavy it would almost curl. And he loved to get wet. Aside from swimming in the pool, he would chase the sprinklers and even get a drink, attacking the water with force, coming away soaked.

Inside, he loved to be on the bed. He was such a big dog that he most of the space, and never moved. Whenever I would come visit, he would insist on sleeping on the foot of the bed, which for him meant the entire lower-half of the mattress. Rarely did I get a good night's sleep, but it was worth it to have his company.

He had 11 years of a good life. Now he is no longer in pain. Rest in peace, Toby. I will miss you.