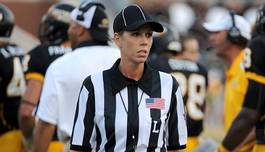 The NFL
announced Wednesday
that it has hired Sarah Thomas as the league's first full-time female official. She will begin working games this fall as a Line Judge.
Thomas has officiated Conference USA games since 2007, high school games since 1999, and has been on the NFL's radar for the last several years.
But she is not the first woman to work an NFL game. That distinction goes to Shannon Eastin, who worked as a Line Judge as part of
replacement referee debacle of 2012
.
Eastin was described as being "unprepared for the level of play" by sources that were on the field for one her games. The same source added that she was missing obvious offside and false start calls and had difficulty handling the coaches. Eastin was also widely criticized for breaking the gender barrier by crossing a picket line, and the fact that she had previously appeared in the World Series of Poker, a violation of the league's gambling policy.
But Sarah Thomas is not Shannon Eastin.
Thomas' qualifications are as good as any of the seven men that were hired along with her. But will she be better prepared for the speed of the game than her predecessor? It's best to ask her.
"The speed, yes, is there," Thomas
told NBC Sports two years ago
. "These are just phenomenal athletes on both sides of the ball. The game has a tendency to slow down the (more) snaps you get and repetition. So, hopefully, the more snaps I get, things will start slowing down a little bit."
But aside from her qualifications and status as trailblazer for women, is the ever-present problem the NFL has had with women.
If you combine Roger Goodell's fumbling of the Ray Rice situation last season with the failed hire of Shannon Eastin three years ago, you can't help but wonder if this is an off-season move to shore up the league's tattered image.
Presumably, Goodell doesn't have any direct say in who is hired as ref, as that job falls to Vice President of Officiating Dean Blandino. Goodell's name doesn't appear on the
press release issued by the league
, but neither does Blandino's. It is difficult to imagine there wasn't a conversation on some level with the Commissioner before the league hired its first full-time female ref.
Ultimately, the question is whether or not Thomas can do the job, not the motivations behind her hire. She knows on that first kickoff of the 2015 season all eyes will be on her and she will likely have to prove herself even more than the average rookie. Only time will tell if she is capable.
But this move comes at a time when the league is having trouble with public perception, and it has to give even the most casual observer some pause.