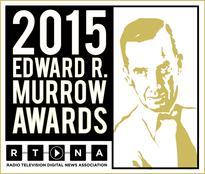 I learned today that I now have four more Murrows to my name.
For those who don't know, the
Edward R. Murrow Awards
are given by the
Radio Television Digital News Association
to recognize excellence in broadcast journalism.
This makes a total of at least ten regional Murrows and one National win during my career. Three with KIRO/Seattle and seven with KONA/Tri-Cities. The national win was a staff award for Best Newscast at KIRO for
The Big Story @ 6
, for which I was a reporter. The 2015 awards are for Best Writing, Best Newscast, Best News Documentary and the much-coveted Overall Excellence.
Below are the winning entries:
Overall Excellence - NewsRadio 610 KONA
As News Director, I pushed major changes to the news and programming departments. In 2014, we re-branded and re-launched the station, focusing more substantive news rather than hyper-local content. We picked up the pace of our newscasts and began producing long-form series and features. The is one of the greatest honors in journalism.
Best Writing - Election 2014 Analysis
The 2014 Elections in Washington State were some of the most interesting in recent memory. The 4th Congressional District Race was especially entertaining after a long-time congressman decided to retire. I wrote two pieces of analysis for the station's website.
Click Here To Read The Entry
Best Newscast - The Afternoon Report
For the second time in three years, KONA's flagship news broadcast won the Murrow Award for best newscast. This broadcast, from August 12th, 2014, features breaking news of a severe thunderstorm, live reports from scenes of damage, interviews with local authorities, as well as a separate developing story about a triple-homicide.

Best Documentary - Breathing Poison
Throughout the course of 2014, dozens of workers at the Hanford site were exposed to toxic vapors emanating from underground waste tanks. The KONA News Staff looked at the issues, complaints, and alleged coverups surrounding those exposures.