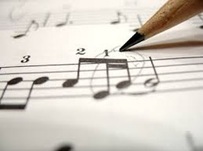 As I sit here on a Tuesday night listening to music, I find my self once again pondering music theory.

DISCLAIMER: It is important to note from the outset that I have no formal training in the craft, and my extent of music experience is limited to three years of torturing my parents while I attempted to learn the violin.

At the moment I have my Apple TV shuffling my music and I have again noticed that every song seems to follow the same basic pattern.

ANOTHER DISCLAIMER: My taste in music is rather unique. I tend to listen to a lot of 80s and 90s pop-rock. This preference for what many consider largely forgettable music has drawn a lot of criticism over the years. Nevertheless, it is the baseline from which I draw the following analysis.

In the world of pop-rock, each song seems to begin with Verse 1 before transitioning to the Chorus and then Verse 2. This repeats with a Bridge and Third Verse then often concludes with an abbreviated version of the Chorus. Displayed on a flow chart, the pattern looks something like this:
1 → C → 2 → C → B → 3 → c
It's a very simple formula and it has been around since the birth of rock and roll, if not longer.

I'm sure this is nothing new to those in the music industry, but this pattern always comes to mind whenever I spend time listening to my tunes.

But as happens frequently, my curiosity gets the best of me. Why does this formula equate to success in pop-rock music? Where did it come from? Does it, or some version of it, apply to classical music? What about jazz and other forms of instrumental music? Why the repetition of the chorus? For that matter, why does repetition work so well in all forms of music?

Now that I have that esoteric brainstorm written down, I must go back to listening to my music rather than thinking about it.