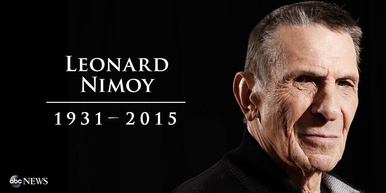 As the world mourns the loss of Leonard Nimoy, I find myself reflecting on a moment I had with my dad a couple months ago.

Growing up I had many interests. My favorite shows ranged from He-Man when I was young, Get Smart when I was ten or eleven, and eventually Star Trek by the time I was a teenager. Of these shows, none had a greater effect on my life and world view than Trek.

Through these typically tumultuous years, I also struggled with faith. My parents took me to a number of churches, hoping that I would find God on my own. However, these experiences - combined with my aptitude for math and science - only pushed me to becoming an agnostic. During that formative time in a person's life, I found myself less and less willing to accept something without empirical evidence. My brain became wired to logic, reason, and data. I found that was much more of an intellectual individual; driven by rules and numbers, rather than an overtly social person; driven by emotion and human interaction.

While enjoying a beer with my dad a while back, the conversation turned to faith versus science. I had always assumed that it was my mother who wanted my siblings and me to be religious, and not my engineer father. To my surprise, it was the reverse. My mom grew up agnostic, while my dad was a confirmed Christian. When I asked about how the two reconciled those differences in my raising, he a rather interesting thing to say.

"You were unduly influenced by Spock," he said with a laugh.

He was right.

I first was exposed to Star Trek through The Next Generation, but developed a great affinity for Gene Roddenberry's original. Despite the cardboard sets, God-awful graphics, and ridiculous over-acting by William Shatner, the show had heart and brains. Though visually antiquated for a child that grew up in the 80's, the stories and characters held up as well as anything on TV today. And of all the elements from that "Wagon Train to the stars," I identified with Spock the most.

Smart. Cool. Calm under pressure. How could anyone not like Spock? He was quick with the wit, and even faster with an answer.

As I came into my own during my teens, my perspective on life became far more worldly and objective. I took pride at being able to look at a situation without emotion and let logic rule the day. I began to question everything; challenge everything. I enjoyed being the one person who thought about things differently and presented a contrarion's perspective. My parents even got me a set of pointy ears one year from Christmas.

Leonard Nimoy embodied what is was to be Spock. And even though he occasionally struggled with the fame that the role brought him, he was an inspiration to me and to millions of others. I can think of no greater legacy.

Live long and prosper, Spock. You are now among the stars.